ArduVolans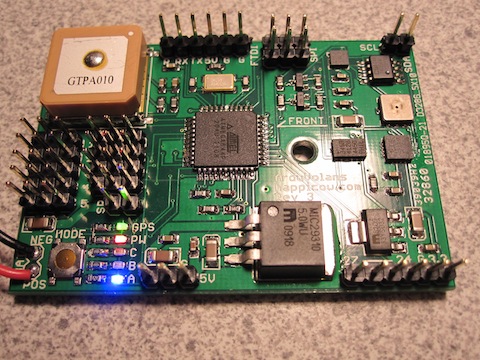 ArduVolans is an autopilot for remote controlled aircraft. At this point it has not seen any flight time. But all of the components work as expected.
Features
ATMEGA 644P 16 Mhz processor
64K of programming space
2K of RAM
Single board design
5 channel input from radio
4 channel output to servers / ESC
3 amp, 5 volt regulator which can optionally power servos
Battery voltage divider for monitoring battery level
Mediatek MT3329 GPS soldered on board
3 axis gyro (L3G4200)
3 axis magnetometer (HMC5883L)
3 axis accelerometer (ADXL345)
Air pressure sensor (BMP085)
256kbit EEPROM for logging
7 IO pins available for expansion
1.75" x 2.5"
Prototype
This is my originaly prototype. This particular mish-mash of stuff has seen time in the air. It consists of a Sparkfun Arduino Mini board (you can't see it), located under the DIY Drones ArduIMU v2 board, a 506 GPS, DIY Drones airspeed sensor and a Sparkfun breadboard.